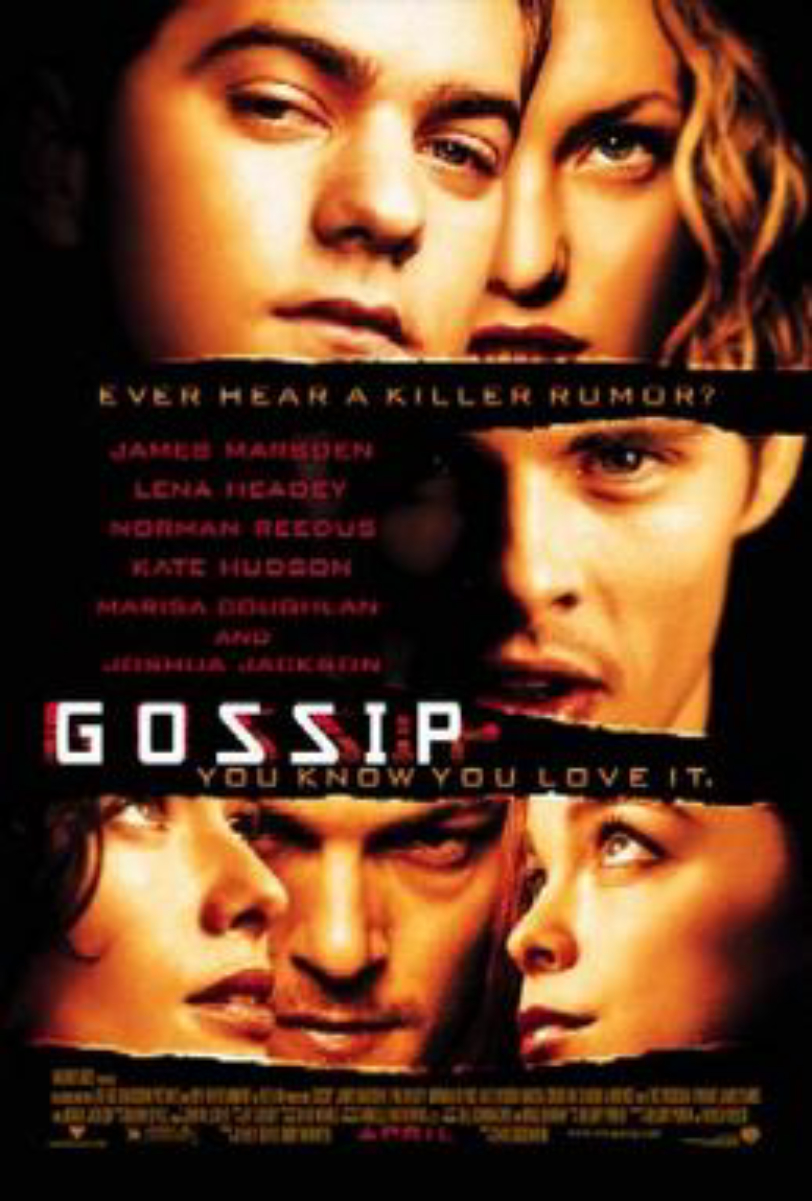 Gossip is a 2000 American teen psychological thriller film directed by Davis Guggenheim and featuring an ensemble cast including James Marsden, Lena Headey, Norman Reedus, and Kate Hudson.
Plot
---
On a Northeastern United States college campus. Derrick Webb, Cathy Jones (referred to as simply "Jones") and Travis are students as well as roommates. They all take a Communications class with Professor Goodwin, in which the subject of gossip is brought up. For their final project, the three decide to start a rumor and track the results.
One night, while at a nightclub, they run into Naomi Preston and her boyfriend Beau Edson. It is common knowledge through the campus that Naomi is saving her virginity for marriage. Jones, in particular, has a problem with Naomi's wealth and sense of entitlement. Furthermore, Naomi seems to have started a rumor about Jones having sex with Goodwin.
While at the party, Derrick meets a girl and brings her upstairs. At this point, the girl becomes ill; Derrick then notices Beau and Naomi in the adjacent room kissing. Beau attempts to have sex with Naomi but is rejected. Derrick, Jones and Travis proceed to begin a rumor that Naomi and Beau had sex. Naomi soon discovers the rumor, but denies it to her friends and becomes convinced she was raped by Beau; under the encouragement of her friends, she reports it to the police. As a result, Beau is expelled.
It is eventually revealed that Derrick and Naomi came from the same hometown and were a couple in high school; much like Beau, Naomi refused Derrick and Derrick raped Naomi. He denied the allegation and said Naomi made it up so her father wouldn't be upset with her; as a result, his popularity at school skyrocketed, so he moved after graduation and intentionally wanted to spread a rumor about Naomi as revenge. Beau learns this, and the two fight. Derrick manages to manipulate Beau into thinking they're both victims of Naomi's lies. Derrick goes to Naomi's dorm to confront her, but she attacks him and he leaves.
The next day, Naomi is pronounced dead and, because of Derrick and Naomi's past (plus the new marks on Derrick's face), campus police accuse Derrick of killing her. Investigators come to his apartment to search for clues and their suspicions intensify. Under the overwhelming psychological pressure, Derrick confesses to raping Naomi to Travis. The investigation was proven to be a setup by Jones, Travis and Goodwin. To Derrick's surprise, following his admission, Naomi steps forward.
Cast
---
Reception
---
Gossip received negative reviews from critics and currently holds a 28% rating on Rotten Tomatoes based on 65 reviews.
The film opened at #12 at the North American box office making $2.3 million USD in its opening weekend. The film suffered a 59% decline in box office earnings the following week, descending to #17.