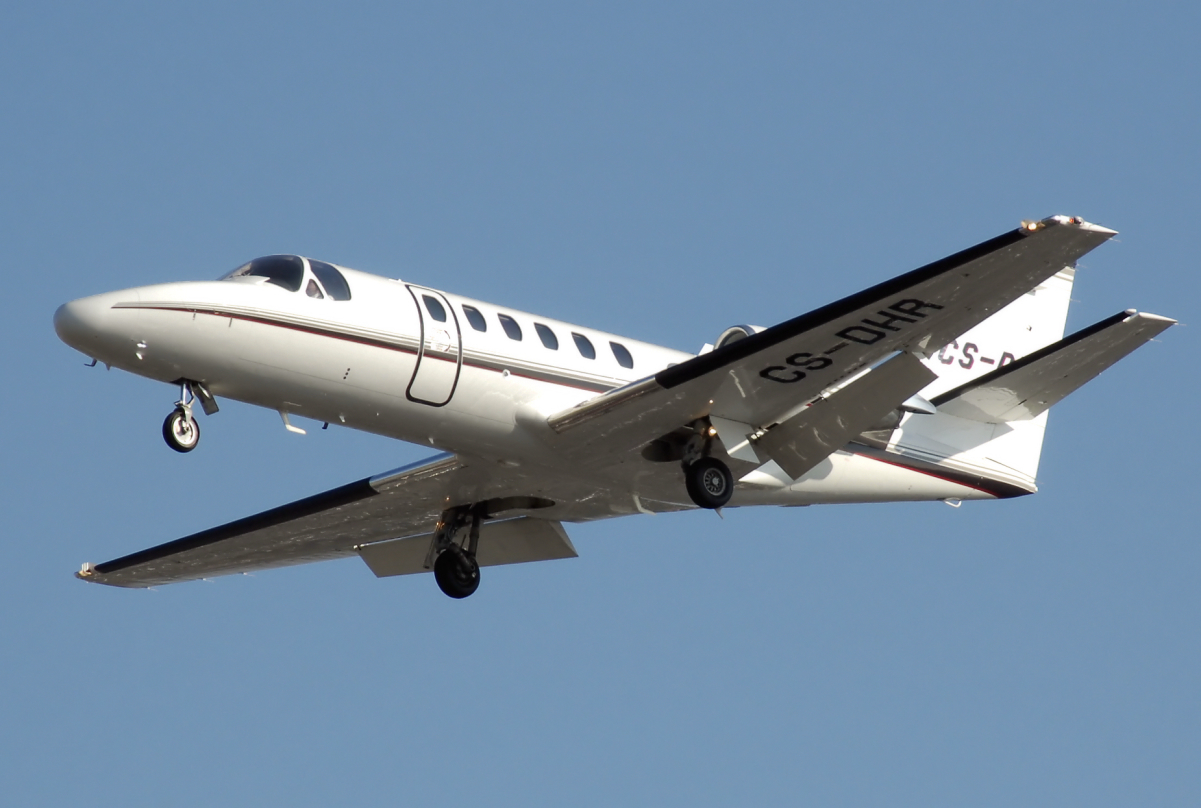 The Cessna Citation II (Model 550) series of Citation jets are light corporate jets built by Cessna. Stretched from the Citation I, it was announced in September 1976, first flew on January 31, 1977 was certified in March 1978. The II/SP is a single pilot version, the improved S/II first flew on February 14, 1984 and the Citation Bravo upgraded with new avionics and P&WC PW530A turbofans on April 25, 1995, while the United States used it as the T-47. Production ceased in 2006 after 1184 were delivered.
Design
---
The Citation II (Model 550) stretches the Citation I fuselage by 1.14m (3ft 9in), increasing seating capacity to 10 and baggage capacity. Wingspan was increased, its larger fuel capacity and more powerful, 2,500 lbf (11 kN) Pratt & Whitney Canada JT15D4 engines provided higher cruise speeds and longer range.[2]
Development
---
The stretched Citation was announced in September 1976, it first flew on January 31 1977 and FAA certification was awarded in March 1978, the II/SP is the single pilot version.[2] A total of 688 aircraft were delivered.[1]
The improved Citation S/II (Model S550) was announced in October 1983 and first flew on February 14, 1984, before certification in July. It gained a supercritical airfoil developed for the Citation III and JT15D4B turbofans. It replaced the II from 1984, but the II resumed production from late 1985, and both were built until the Bravo introduction.[2] Deliveries of the S/II amount to 160.[1]
The improved 2,500 lbf (11 kN) JT15D-4B has higher temperatures components, allowing more thrust at higher altitudes. It could seat 11 people and fuel capacity was increased to 5820 lbs. TKS fluid de-icing was used on airfoils leading edges in addition to bleed air for the engines.
By 2018, 1970s-1980s model IISPs were valued at $300,000-700,000.[3]
The Citation Bravo first flew on April 25, 1995, was granted certification in August 1996 and was first delivered in February 1997. It features new P&WC PW530A turbofans, modern Honeywell Primus EFIS avionics, a revised Citation Ultra interior and a trailing link main undercarriage.[2] Production of the Bravo ceased in late 2006 after 336 had been delivered.[1]
Its more efficient PW530A generates 15% more thrust at takeoff and 23% more at altitude. It burns 1,100 lb (500 kg) of fuel in the first hour, dropping to 750–830 lb (340–380 kg) the second hour cruising at 360–365 kn (667–676 km/h) at FL410-430 and then 637 lb (289 kg) the third hour at 350 kn (650 km/h) and FL450. The engine overhaul every 4,000 hours cost $1 million or $275 at power by the Hour. In 2018, early 1997 models starts at $800,000, up to $1.7 million for 2006 planes. The Bravo was replaced by the better-but-more-expensive Citation CJ3. The competing Beechjet 400A is roomier and faster but needs more fuel and more runway while the compact Learjet 31A competitor is faster but has less range. The faster and more expensive Citation V Ultra's have a longer cabin but consume more fuel.[4]
The US Customs & Border Protection purchased ten Citation IIs configured with fire control radar (initially the F-16's AN/APG-66(V), later the Selex ES Vixen 500E system) and the WF-360TL imaging system.[5] These aircraft have been used effectively in Panama, Honduras, Colombia, Peru, Venezuela, Mexico and Aruba. The similar OT-47B aircraft are based on the Cessna Citation V airframe.
The Model 552 T-47A was the designation given by the U.S. Navy to the Citation II. Fifteen aircraft were purchased by the Navy to train Naval Flight Officers, primarily its Navy F-14 Tomcat Radar Intercept Officers, Navy and Marine Corps A-6 Intruder Bombardier/Navigators, Navy and Marine Corps EA-6B Prowler Electronic Warfare Officers, Marine Corps F/A-18D Hornet Weapon Systems Officers and Navy S-3 Viking Copilot/Tactical Coordinators. The T-47A was modified by incorporating JT15D5 engines, shortened wings, multiple radar consoles and the AN/APQ-167 radar system.[6]
The T-47As were operated by Training Air Squadron Eighty Six (VT-86), which was based at Naval Air Station Pensacola, Florida. All but one of the T-47As were destroyed in a hangar fire, and the Navy replaced them with upgraded T-39s[7]
Variants
---
Operators
---
Specifications (Cessna S550 Citation SII)
---
Data from Jane's All the World's Aircraft 1993–94[20]
General characteristics
Crew: Two
Capacity: Six to eight passengers
Length: 47 ft 8 1⁄2 in (14.542 m)
Wingspan: 52 ft 2 1⁄2 in (15.913 m)
Height: 15 ft 0 in (4.57 m)
Wing area: 342.6 sq ft (31.83 m2)
Empty weight: 8,059 lb (3,656 kg)
Max takeoff weight: 15,100 lb (6,849 kg)
Fuel capacity: 862 US gal (718 imp gal; 3,260 L) usable fuel
Powerplant: 2 × Pratt & Whitney Canada JT15D-4B turbofans, 2,500 lbf (11 kN) thrust each
Performance(above 29,315 ft (8,935 m))
Maximum speed: Mach 0.721
Cruise speed: 403 kn (464 mph, 746 km/h) at 35,000 ft (11,000 m)
Stall speed: 82 kn (94 mph, 152 km/h) (CAS)
Range: 1,998 nmi (2,299 mi, 3,700 km) (with max fuel)
Service ceiling: 43,000 ft (13,000 m) (max operating altitude)
Rate of climb: 3,040 ft/min (15.4 m/s)
See also
---
Related development
Aircraft of comparable role, configuration and era